---
---
Christmas Gnomes Sleepover Party Kit
Add some holiday cheer to your next sleepover party with our Christmas Gnome Sleepover Party Kit! This one-of-a-kind kit includes everything you need for a fun and festive night. Whether you set it up under the Christmas Trees as gifts for your littles on Christmas morning or have a Christmas birthday party to plan, this kit is perfect for creating gnomes magic.
Our Gnome Christmas Sleepover Party Kit Includes:
3 red or white A frame kids tents perfect for setting up to Create a fun gnomes campout in your home.

6 strands of twinkling lights to decorate each Christmas gnomes sleepover teepee or hang between the teepees.

3 grey chevron or red pillow bed cases (includes 15 inflatable pillows however you may choose to use 15 standard queen size pillows of your own depending on the comfort and feel your going for)

3 silly wonky Christmas gnomes Santa hats to put on the top of each Christmas gnomes tent or wear as a fun Christmas gnome party favor.

9 l snowballs for playing gnome Christmas toss games, gnome Christmas juggling games and having a gnome Christmas fuzzy snowball fight, tis the season.

2 gnome Christmas decor ribbon banners to hang between the tents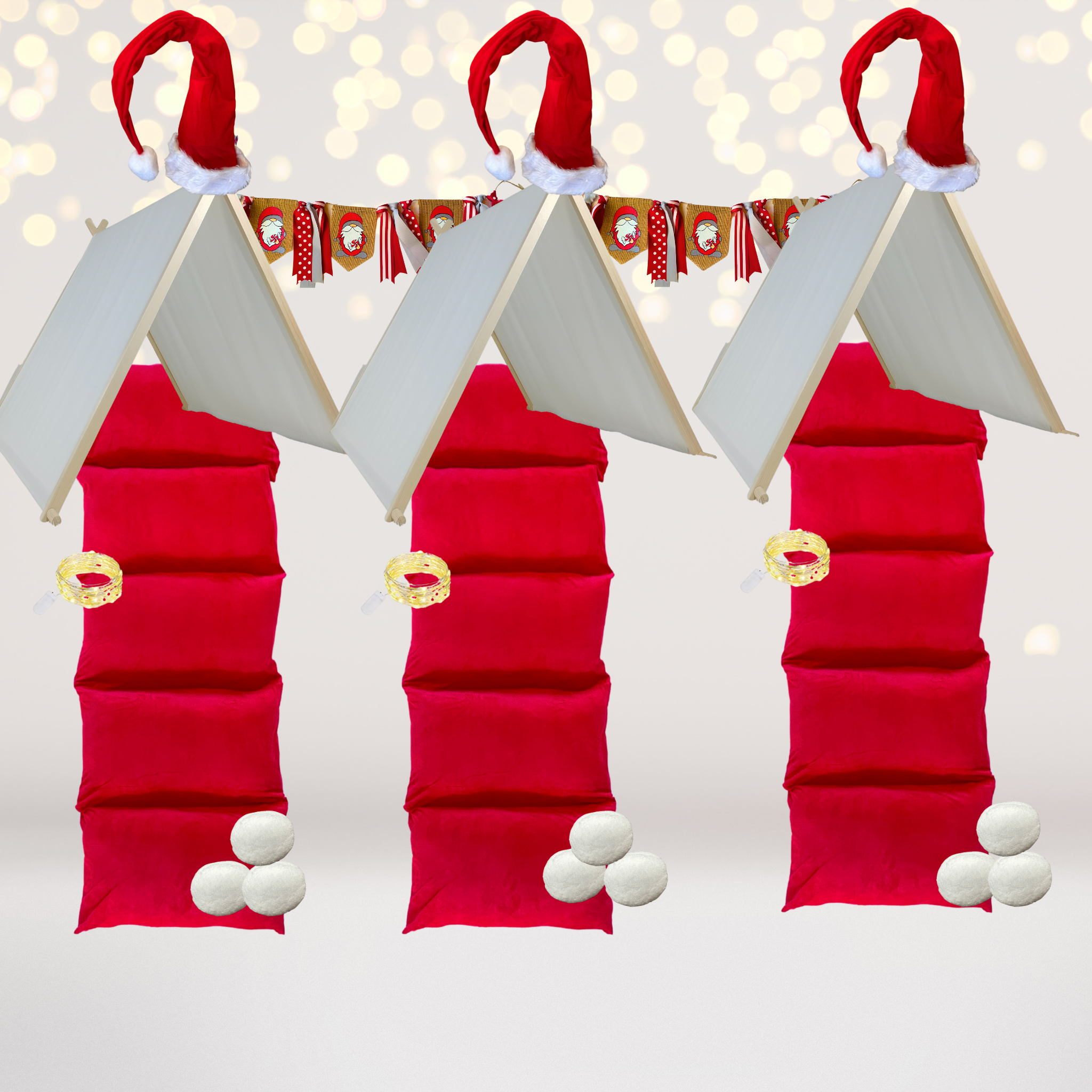 Details of Our Proudly Created Gnomes Sleepover A-Frame Tent:
Each A-frame gnomes sleepover tent is meticulously handcrafted using high-quality materials.

The frame of each A-frame gnomes sleepover tent is constructed with interlocking solid wood. The cross poles fit seamlessly together, and a wood-capped screw is used to secure them at the center. This ensures a fast, sturdy, and durable frame that will not collapse on a child.

Our gnome Christmas decor slumber party tents feature a luxurious 100% cotton fabric cover. The cover has a casing for the two bottom poles, providing extra security. The top of the cover simply lays over the top beam of the tent frame.

Each Christmas gnomes sleepover tent comes with a convenient fabric carry bag. The tent can be easily disassembled and stored in the bag for future use or travel.

The assembled dimensions of each gnomes tent are approximately 48x40x40 inches. Please refer to the accompanying photo for further clarification.

To add a magical touch, each gnome Christmas decor sleepover tent includes a strand of fairy lights that can be used to decorate the tent according to your preferences.
About our Christmas gnomes Sleepover Pillow Beds:
Our solid red or grey chevron gnomes category Pillow Bed / Lounger Slipcovers measure 88 inches by 26 inches. They are made of soft to the touch polyester material and can be machine washed on a delicate cycle or hand washed. Tumble drying on low heat or laying flat to dry are both suitable options.

The slipcover features five zippered pockets that can hold up to five queen-sized pillows. Please note that the pillows themselves are not included, allowing you to choose your preferred level of comfort. However, for a one-time party use, we provide 15 inflatable pillows that create a mattress-like feel. Alternatively, you can use your own standard queen-sized pillows you have at home. The individual pockets allow easy access for inserting and removing the pillows. If you want to buy pillows we recommend these affordable queen size pillows from target. Have a look for yourself.

Recommended for children ages 3 and above
The Perfect Gnome Christmas Decor Gift Idea
Make this Christmas unforgettable for your little ones with a gift that will bring them joy, laughter, and magical moments. Create lasting memories by building gingerbread houses or enjoying a cup of hot chocolate inside our cozy Christmas Gnomes Sleepover tents. These special moments shared with you will be cherished forever. Shop now get your gnomes order in before Christmas.
By setting up the Christmas Gnomes Sleepover on Christmas Eve, you'll ensure that your kids wake up filled with excitement and holiday spirit. It's also a wonderful opportunity to celebrate the season or organize a special gnomes birthday party with their friends. Your kids will think you're a magical mom or grandma when they see all the surprises you've planned! So put on some festive music, unwrap the treats, decorate the trees and get ready for a delightful holiday experience!
Personalized Products equals Happy Customers
Make your home holiday party extra special with personalized Christmas party supplies. Contact us to add a special gnome or name personalization to each pillow bed case or Santa hat.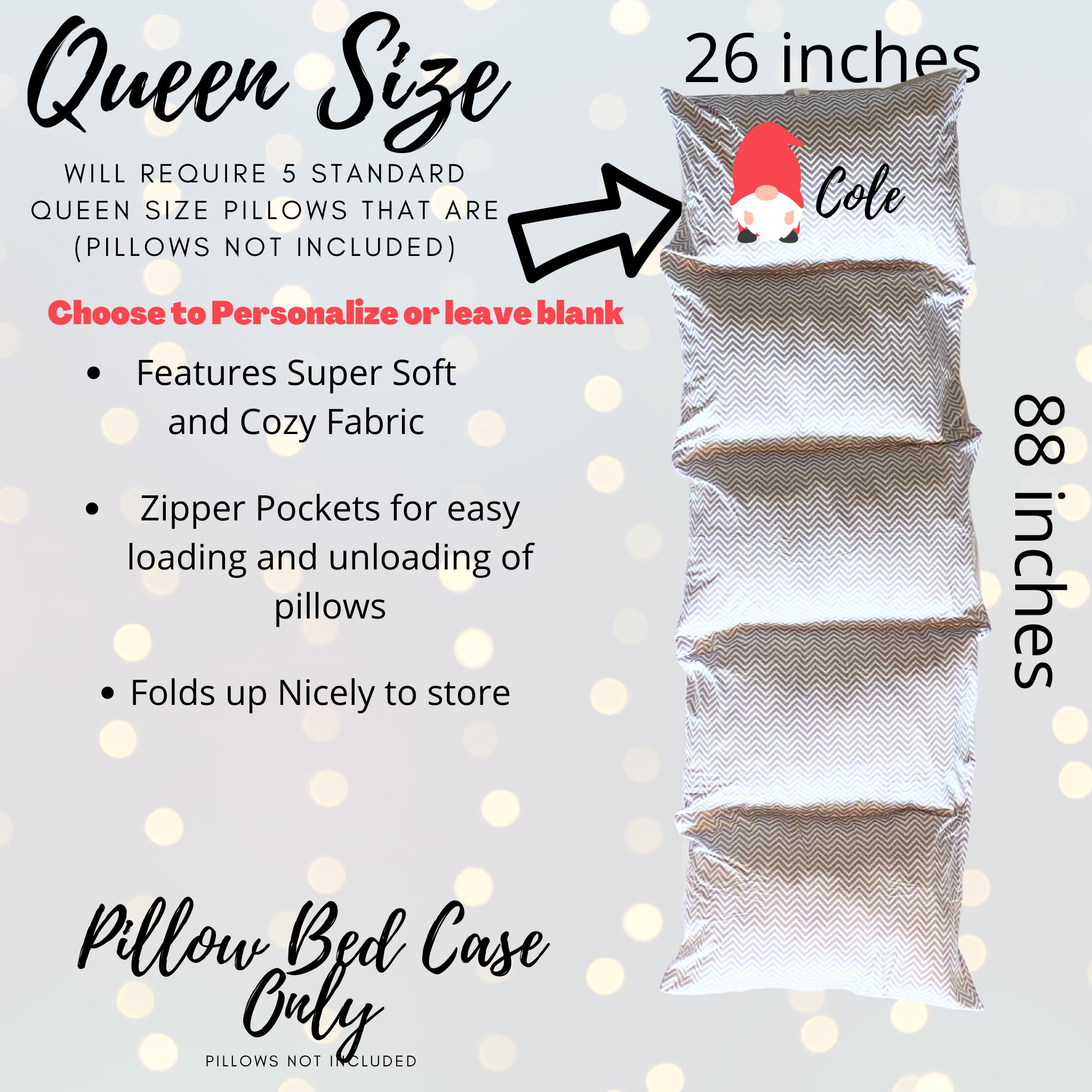 When it comes to gift-giving, consider creating a memorable Christmas sleepover experience at home for your kids with our Gnome Christmas Sleepover Party Bundle. Set up cozy tents at home near the fireplace, read Christmas stories, and play holiday-themed games. It's the perfect gift to keep your kids entertained and create lasting memories.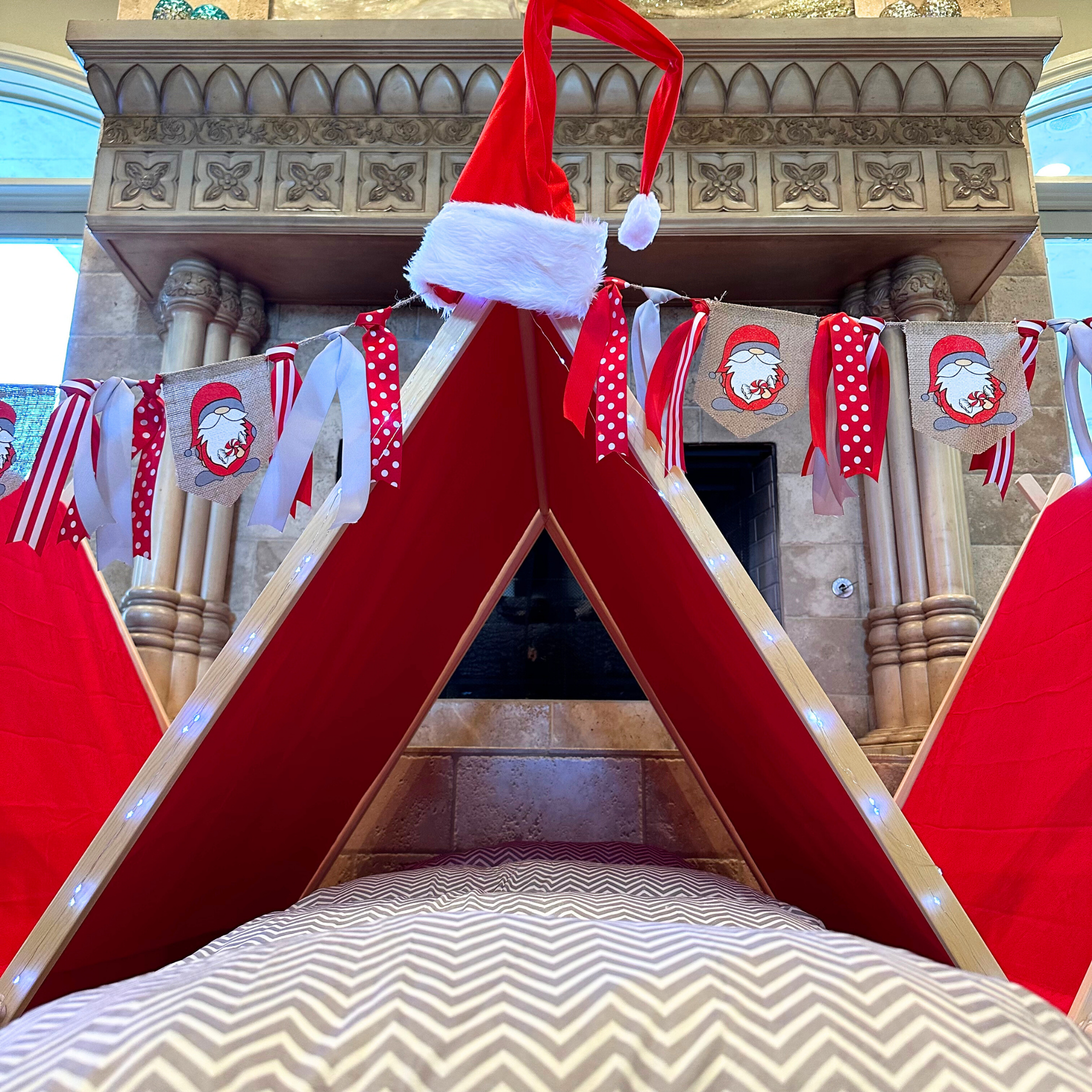 We try to keep our price fair. Most of our items are made by hand in the USA. We can create totally custom party kits to meet any price range by altering what included. Just contact us with your price point and or party theme request or party box configuration (what items you want) and we will get back to your with a price quote and images if its a new theme. You can also check out our selection of other party themes here.
Shipping
Most orders are made and will be shipping out with 3 business days of purchase. We use ground shipping which takes 3-5 days of transit time. If you need a faster shipping you can contact us for a price quote on expedited shipping options.
No matter where you shop, we are glad you stopped by our home page to look around and check out our selection of home party kits. We hope you have found what your are looking for. If not please contact us and we will be happy to help you.
We hope you have a marvelous Christmas and find the perfect personalized gifts for your loved ones. Happy holidays!
---