Host A Knee Slapping Western Theme, Cowgirl Party
Create a Wild West Scene with Western Decorations
Yee-haw, partner! Are you ready to host the ultimate western-themed party with the best western decorations that will have your guests talking for years to come? From cowboy party supplies to mouth-watering desserts, this blog post will guide you through every step of creating an unforgettable Wild West experience. So, saddle up and let's ride into the sunset of party planning success!
Key Takeaways
Create an unforgettable Wild West experience with tents topped with a cowboys hat, horse and cowgirl decorations and table settings!

Make your western party sparkle with Chicky Chicky Bling Bling tents

Delight guests' taste buds with classic western desserts like pecan pie & s'mores plus cowboy themed treats, boot cookies anyone?
Creating the Perfect Western Atmosphere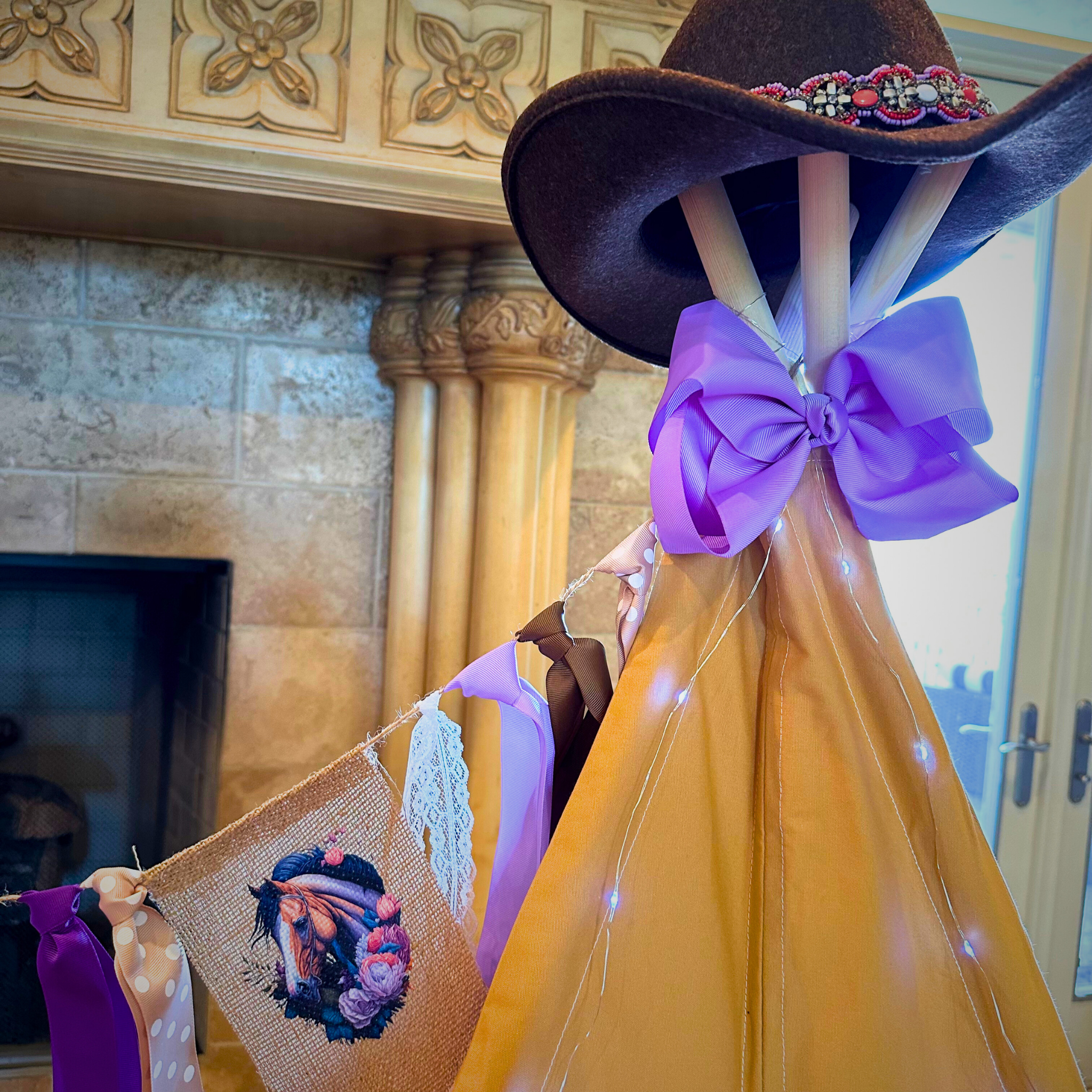 Establishing a perfect western atmosphere involves:
Taking your guests back to the era of cowboys, saloons, and the untamed frontier

Going all out with cowboy party decorations and supplies

Setting up a western-themed table

Dressing your guests in cowboy hats, boots, and bandanas
The key is to immerse your guests in the Wild West experience, making them feel like they've stepped into a thrilling adventure.
A memorable event that will leave your guests in awe can be achieved with the appropriate western party decorations and atmosphere. Let's delve into the intricacies of arranging:
Hats to hay bales

Cowboy party supplies

Decorations

Table settings
Cowboy Party Supplies
Consider hats, bandanas, and sheriff badges when selecting cowboy party supplies. These items not only serve as fantastic decorations but also allow your guests to get into the spirit of the Wild West. Imagine friends and family members donning cowboy hats, wearing bandanas, and sporting sheriff badges as they laugh and mingle throughout the event.
Moreover, elevate the excitement with additional cowboy-themed embellishments such as hay bales, cacti, and wagon wheels. These elements will further enhance the wild and adventurous atmosphere, making your cowboy theme party an unforgettable western party experience.
Western Party Decorations
Transforming your event space into a western wonderland requires careful attention to detail. Start by adding cowboy-theme decorations, like balloons in the shape of cowboy hats or boots. This will create a fun atmosphere and enhance the cowboy theme. Next, add some excitement to the scene with wagon wheels, cacti, and burlap banners.
For an authentic Wild West scene, remember to include the finer details. Scatter horseshoes around the event space, use lassos as decorative elements, and set up cacti in various sizes to transport your guests to the days of cowboys and outlaws. These western party decorations will create a thrilling atmosphere that your guests will adore.
Setting the Table
We love some of the table decor and food as seen on Kara's Party Ideas as pictured below.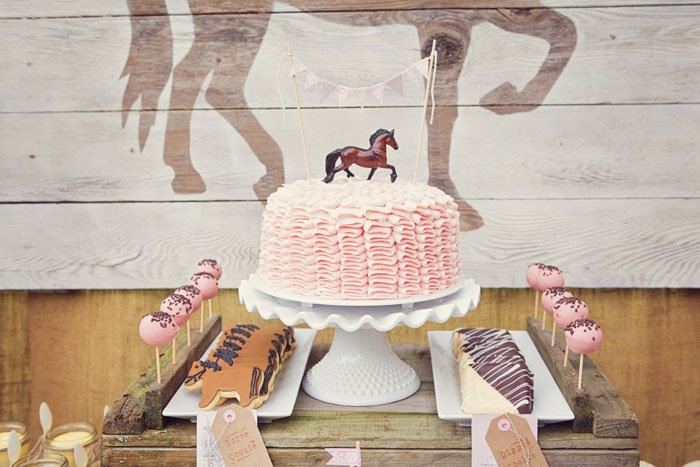 Hosting a western-themed party requires you to provide an authentic dining experience. Here are some ideas to help you create the right atmosphere:
Use cowboy-themed plates, cups, and napkins with imagery of horses, bull horns, or cacti.

For a more rustic feel, opt for wooden or metal chargers as a base for the plates.

Use mason jars or tin cans as drinking glasses or utensil holders.
When it comes to centerpieces and decorative accents, let your creativity run wild. Place cowboy hats or bandanas as centerpieces or napkin holders, and use horseshoes, cacti, or cowboy boots as exciting accents to complete your Wild West table setting.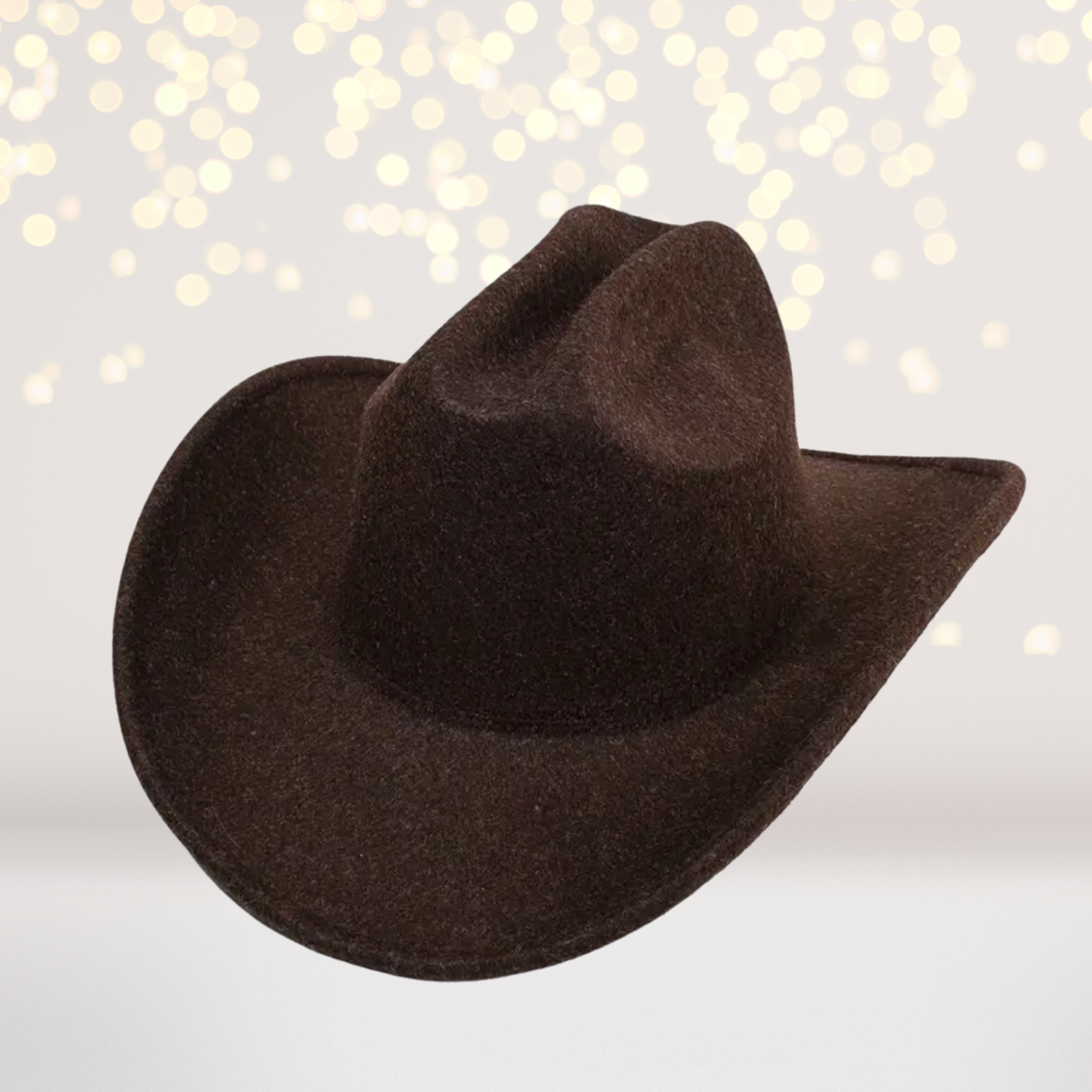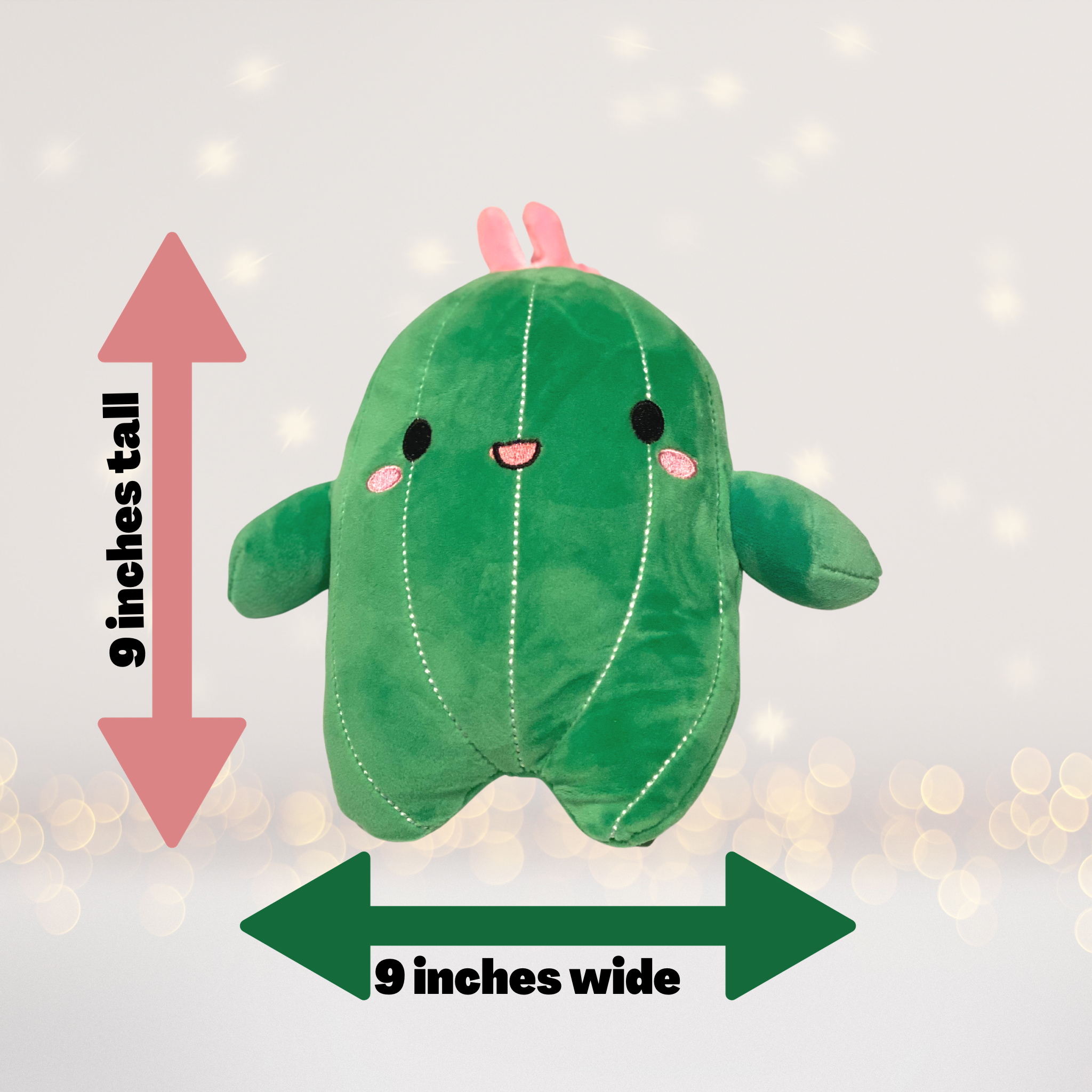 Dressing Up Your Event Space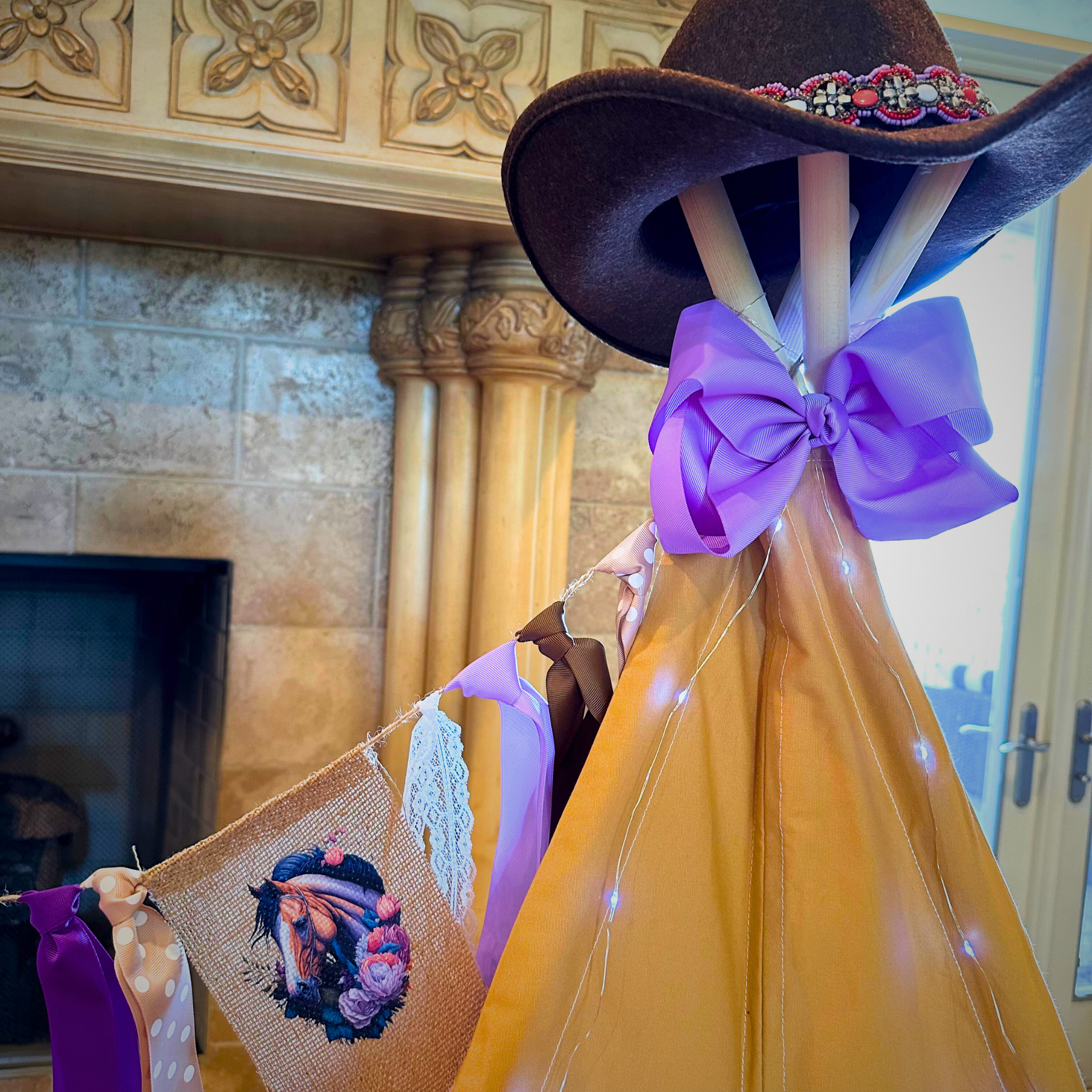 To further elevate your western party, consider incorporating unique elements like Chicky Chicky Bling Bling sleepover tents, and a western photo booth. For more party ideas, these additions will not only enhance the event's atmosphere but also provide exciting party ideas for your guests to participate in.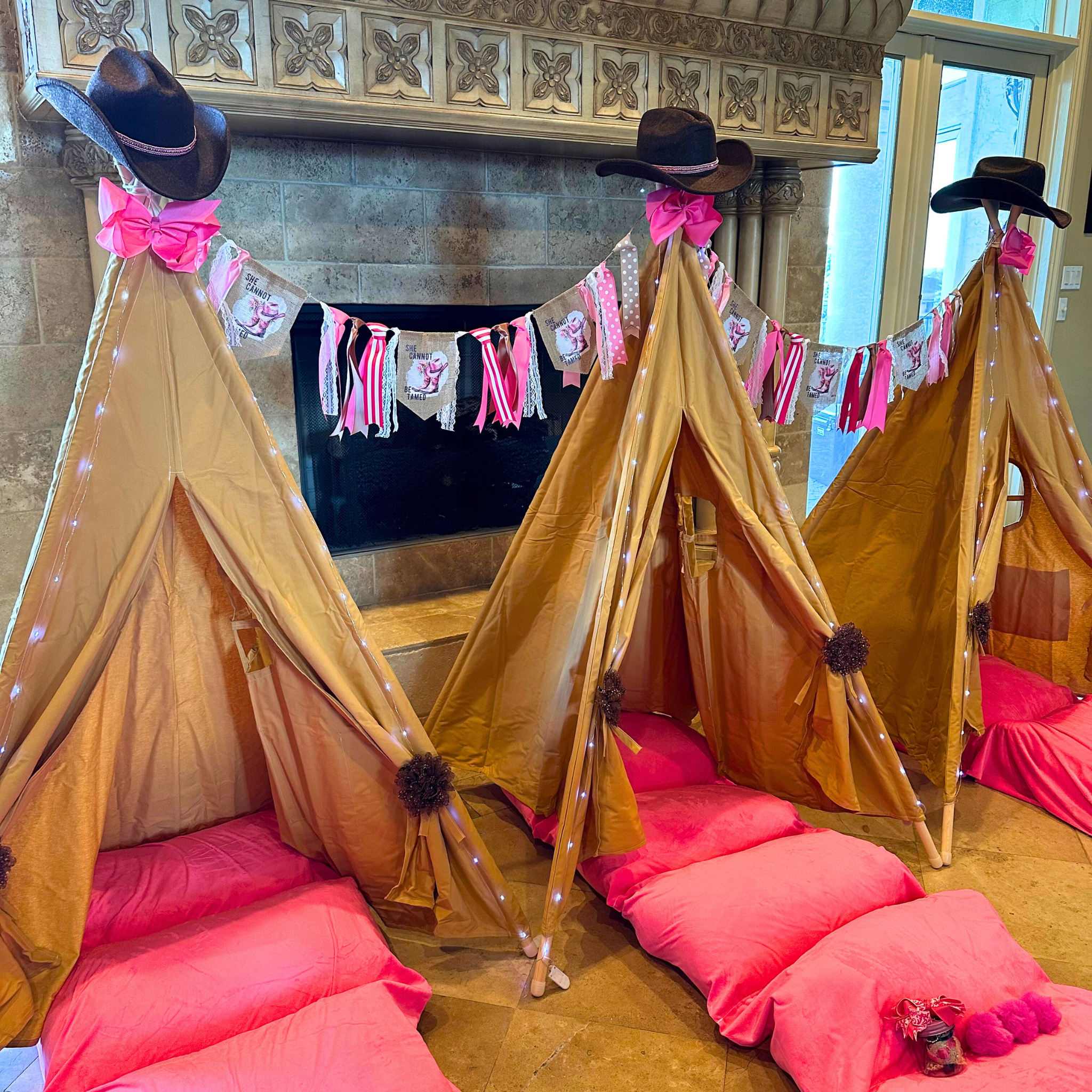 Now, let's explore the details of arranging these unique elements to enhance your event space and provide a thrilling western experience for your guests.
Chicky Chicky Bling Bling Tents
Add a touch of glamour to your western party with Chicky Chicky Bling Bling tents. These canvas wall tents are perfect for creating a wild west atmosphere and provide a cozy space for guests to relax and mingle. To set up your Chicky Chicky Bling Bling tents, find a large, open area and secure the tent to the ground with stakes and ropes.
When it comes to decorating your tents, think western-themed decorations like cowboy hats, Texas sized bows, and lights. Hang up western-themed banners and flags to complete the look and provide an exciting backdrop for your guests to enjoy. Chicky Chicky Bling Bling provides all you need in one party box.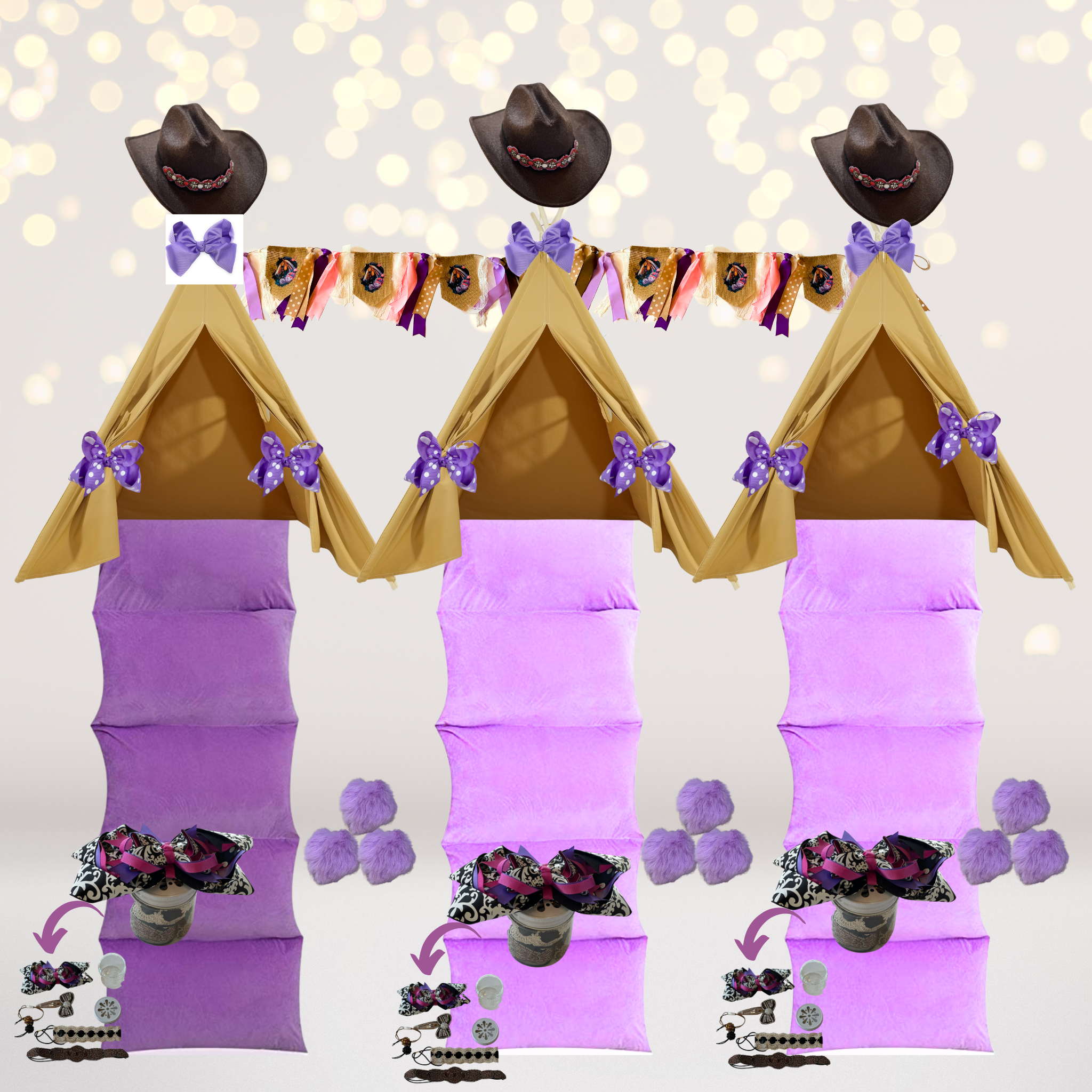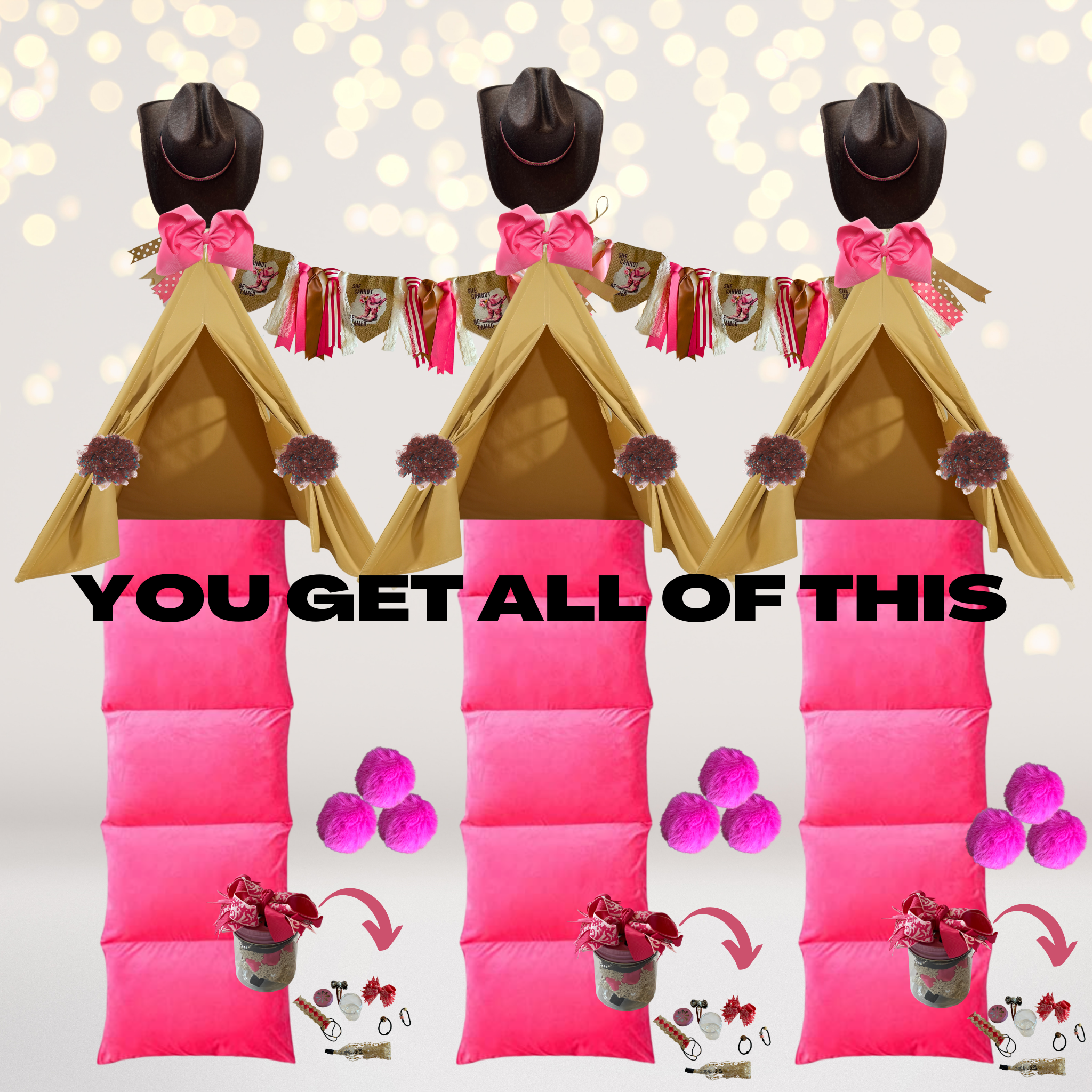 Western Photo Booth
Capture the memories of your western party with a fun and interactive western-themed photo booth. To set up your photo booth, gather exciting photo booth props like cowboy hats, bandanas, lassos, and inflatable cacti. For the backdrop, consider using a cow print rug, a rustic background, or a wanted poster on brown craft paper.
With a western photo booth in place, your guests will have a blast posing with their cowboy hats and lassos, creating fun and unforgettable memories that will last a lifetime. We love this photo booth design by FYNE Designs. We love their cute handmade Wanted sign prop.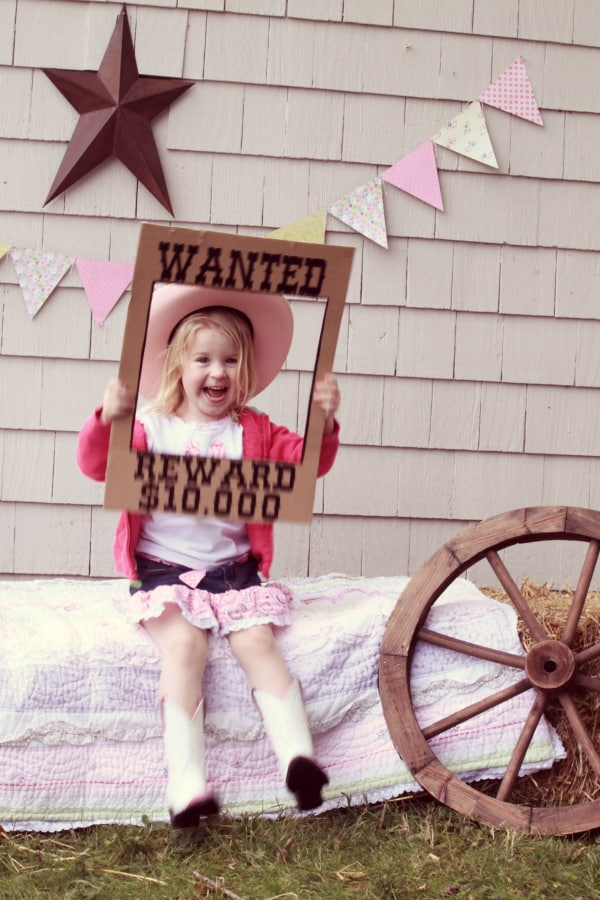 Western Desserts and Treats
Check out the recipe for these fun cowboy hat treats from cakes cottage.com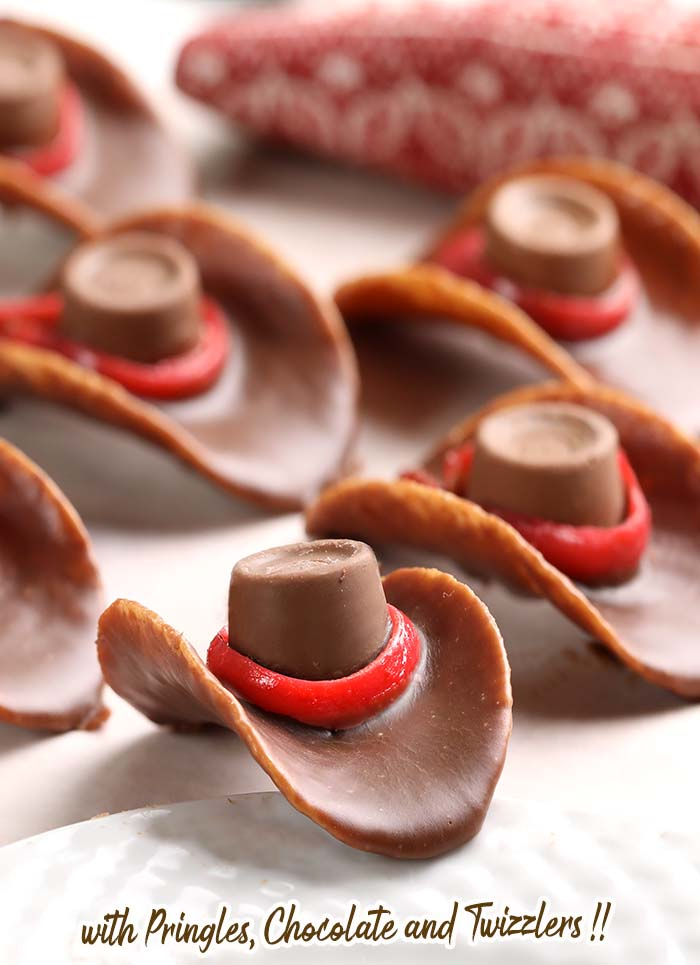 No western party is complete without delicious and themed desserts and treats. From classic western favorites to cowboy-themed goodies, your dessert table should be a mouth-watering attraction for your guests.
This section uncovers some classic western desserts and cowboy-themed treats that are bound to please your guests' taste buds. So, put on your apron and get ready to whip up some scrumptious western desserts and treats that will have your guests coming back for seconds.
Classic Western Desserts
Offer your guests a sweet taste of the Wild West with classic western desserts like pecan pie, s'mores, and apple cobbler. These timeless favorites will not only satisfy their sweet tooth but also add an authentic touch to your western party. Think mason jar desserts as well!!!
Other classic western desserts to consider include:
Huckleberry pie

Marionberry pie

Chiffon pie

Maple bar doughnut

Cowboy cookies
With a variety of delicious options to choose from, your bachelorette guests will be in dessert heaven.
Cowboy-Themed Treats
For a fun twist on dessert, create cowboy and cowgirl-themed treats like boot-shaped cookies, cactus cupcakes, and haystack snacks. These creative and themed goodies will not only delight your guests but also add a playful touch to your dessert table.
Get inspired by other cowboy-themed treats like trail mix, beef jerky, s'mores, and cowboy popcorn. With a mix of sweet and savory options, your western dessert table will be the talk of the town.
Planning Tips for a Successful Western Party
A successful western birthday party requires careful planning and attention to detail. From choosing the right western party supplies to setting the scene with music and managing invitations and RSVPs, every aspect of your western birthday party should be meticulously considered.
This section provides valuable planning tips to make your western party a resounding success. So, grab your cowboy hat and let's get started!
Choosing the Right Western Party Supplies
Choosing the correct western party supplies plays a pivotal role in curating a cohesive and memorable event. Consider factors like your theme, budget, and guest list when choosing supplies like cowboy hats, bandanas, and other western-themed decorations.
Remember to plan ahead and ensure you have enough supplies for all your guests. Additionally, keep in mind the quality of the supplies, as this can significantly impact the overall atmosphere of your event.
Consider Chicky Chicky Bling Bling to create any custom western party theme you want, complete with personalized party favors.
Setting the Scene with Music
Music serves as a potent instrument in establishing the mood and atmosphere of any occasion. For your western party, opt for country and western music that will transport your guests to the days of cowboys and outlaws. You can also include line dancing and other themed entertainment to keep your guests engaged and entertained throughout the event.
Don't forget to consider the volume and timing of the music. Ensure it complements the overall mood of the party without being overpowering or intrusive.
Invitations and RSVPs
Distributing western-themed invitations is an effective strategy to set your event's tone and stir excitement among your guests. Whether you choose a stylish bohemian invite, a rustic barrel motif, or a design featuring country western stars, your invitations should reflect the theme and atmosphere of your western theme party.
Managing RSVPs is crucial for a well-organized and well-attended event. Be sure to send out reminders, track responses, and follow up with guests to ensure a smooth and enjoyable experience for everyone involved.
Summary
Hosting a western-themed party is an exciting and memorable way to celebrate any occasion. By carefully planning and incorporating cowboy party supplies, decorations, themed desserts, and unique elements like Chicky Chicky Bling Bling tents, and a western photo booth, your event will be an unforgettable Wild West experience. So, buckle up and ride into the sunset of party planning success!
Frequently Asked Questions
What is a western theme?
Step into the Wild West with a western-themed party. Gear up in cowboy hats, boots and plaid, with some turquoise jewelry and fringe added to complete the look! Invite your guests to a saloon-style gathering, with a buffet of classic western dishes like chili, cornbread, and beef brisket.
What are Western parties called?
Get ready to party cowboy style - a fandango, hoedown, or roundup - it's time for a good old-fashioned western get-together!
What do you wear to a cowboy party?
For a cowboy party, you'll want to rock the western look with jeans, a western shirt with snap fasteners, a cowboy hat, a leather belt, and cowboy boots. Girls can opt for a prairie skirt with lace up boots and a flouncy top. Let's get wild!
What are some essential cowboy party supplies?
Get ready to rock the range with cowboy hats, bandanas, and sheriff badges - the perfect party supplies for any wild west-inspired shindig!
How can I create an authentic Wild West dining experience?
Create an atmosphere of authenticity by using cowboy-themed tableware, rustic tablecloths, and western-inspired centerpieces to bring the Wild West alive in your dining room!
---