---
---
About our Lemon Party Supplies
Welcome to our exclusive Lemon Party Supplies collection, meticulously designed to infuse your birthday party sleepovers with a refreshing twist. Our Blue Lemon or Pink Lemonade Party Supply Box encompasses Lemon Yellow Teepees that serve as vibrant sanctuaries of fun, providing an immersive lemon-themed experience. The box also features plush floor loungers, perfect for relaxing and sharing stories under the soft glow of lemon lighted tents. To top it all off, you'll discover an array of adorable lemon-themed decorations that add a cheerful zest to your party space, and lemon themed party favors that serve as a sweet-sour reminder of the memorable night. With our Lemonade Party Supplies, every sleepover becomes a citrus-soaked adventure!
Review of what's in the Lemon Birthday Party Supplies Box
Blue Lemon Party Decorations Box
3 Lemon Yellow Party Teepees

3 Turquoise Blue Plush Floor Loungers

3 String Lights to light up each lemon yellow tent

2 Lemon themed party banners to hang between the sleepover tents. This pair of party banners is handmade with coordinating blue or pink ribbons and lemon or lemonade clip arts on burlap pennants

3 Turquoise Flower headband Party Favors

3 Lemon themed favor jars. Each lemonade party favor jar includes an assortment of lemon yellow, turquoise and green hair accessories

3 large turquoise polka dot bows to hang at the teepee top

6 lemon yellow and white stripe bows to hang at the tie back of each teepee entrance

15 inflatable pillows

9 fuzzy lemons snowballs for games and decorations

ages 3+
Pink Lemonade Party Decoration Box
3 Lemon Yellow Party Teepees

3 Hot Pink Plush Floor Loungers

3 String Lights to light up each lemon yellow tent

2 Lemonade party banners to hang between the sleepover tents. This pair party banners is handmade with coordinating blue or pink ribbons and lemon or lemonade clip arts on burlap pennants

3 Pink Flower headband Party Favors

3 Lemon themed party favor jars. Each lemonade party favor jar includes an assortment of lemon yellow, pink and green hair accessories

3 large Pink polka dot bows to hand at the top of each teepee sleepover tent

6 hot pink and white stripe bows to clip at the side of each tepee tent door

15 inflatable pillows

9 fuzzy lemons snowballs for games and decorations

ages 3+
Each lemon themed party box comes with everything needed to host a fun-filled lemon themed sleepover for 3 guests! All of our tepees are easy to assemble and can be used for multiple occasions. The party favor jars, decorations and turquoise or pink plush floor loungers provide hours of cozy comfort and fun.
About our Beautiful Lemon Pattern Teepees
The lemon yellow slumber party tents for summer birthday party box are Each hand-crafted with quality materials.

Our lemon yellow party teepee tents feature premium wood poles with chamfered holes. Each of the poles screw together with quality plastic connectors to create a no-fuss, yet sturdy construction.

Each lemon yellow play tent features a premium 100% Cotton canvas cover with teepee window for your child to look out into the world around them or imagine new and far away places. Furthermore, every canvas cover of our kids teepee is thoughtfully designed with two ample pockets located beneath the window. These pockets serve as a special place for your child to keep their most treasured possessions, whether it be their favorite lemon candy, lemon treats, colorful napkins or other lemony items. Our lemon play house is perfect for indoor play, however is rugged enough to go for an outdoor play adventure on the lawn. We just don't recommend leaving the tents outside or in the spooky garden overnight.

What better way to throw some lemony magic in your play tent than to have string lights spreading light for lemonade theme. Therefore; we have included 2 strands of bendable twinkle lights with each lemon teepee which will allow your child the freedom to light up their play tent just the way they want to.

Our lemon yellow kids teepee also comes with a coordinating carry bag to allow for easy clean up and storage.

Our meticulously crafted teepees are designed with non-slip, non-scratch foot covers, offering peace of mind against floor scratches and preventing any sliding on smooth tile surfaces. Enjoy the beauty of our tents without worrying about damage to your hardwood floor or any unwanted movement.

The dimensions of our lemon yellow play teepee are a good size measuring approximately 71x56x61 inches. The width of the play tent door is approximately 56.5 inches. The height of the teepee tents door opening is 39 inches tall. Our lemonade yellow teepee has enough space for 2 little guests to play in at one time. Thus allowing your little lemon lovers all the space they need to invite their plush friends, or human friends inside for a fun and fabulous lemonade drink party.
About our Lemon Themed Sleepover Pillow Beds
The Turquoise or Hot Pink Pillow Bed / Lounger Slipcovers measure 88 inches by 26 inches. They are made of a soft polyester material, and are machine washable on delicate cycle, or may be hand washed. You may tumble dry them on low or they can be laid flat to dry. The halloween Slipcover holds 5 Queen size pillows in the 5 zippered pockets. The Pillows Are Not Included, allowing you to choose the comfort level your little skeletons prefer. ( 15 inflatable pillows are included and create an air mattress type feel- however you may choose to use your own standard queen size pillows to create the comfort level you prefer )
Lemon Themed Party Ideas and Party Themes
Celebrating your kids summer birthday party is so much fun with our lemons party supplies collection box. Don't like our cute lemon themed party ideas pack? No problem, we have many adorable other party themes, from Halloween and easter to sports and fairies, or contact us to build a custom party pack collection theme just for your.
About our other Theme Lemonade Party Supplies
The 9 fuzzy lemons snowballs to play with your guests. Each girl gets 3 fuzzy lemons. You can create fuzzy lemon snowballs fights, (toss them around like confetti without the mess), lemon toss games (who can toss their 3 fuzzy lemons in a glass first?), and do fuzzy lemon juggling. These fuzzy lemons are a unique and sweet party favor that help decorate your party. So grab a fuzzy lemon ball and let the games begin.

Don't forget the super fun lemonade party favors. Thats right each guest will get a party favor jar filled with fun hair accessories.

E

ach party box comes with 2 coordinating lemon decorations banners. We like to hang each banner in between the sleepover tents but you may choose to hang them above your birthday cake table with balloons, or around the pool if your having an outdoor pool party (the tents provide great shade breaks from the sun)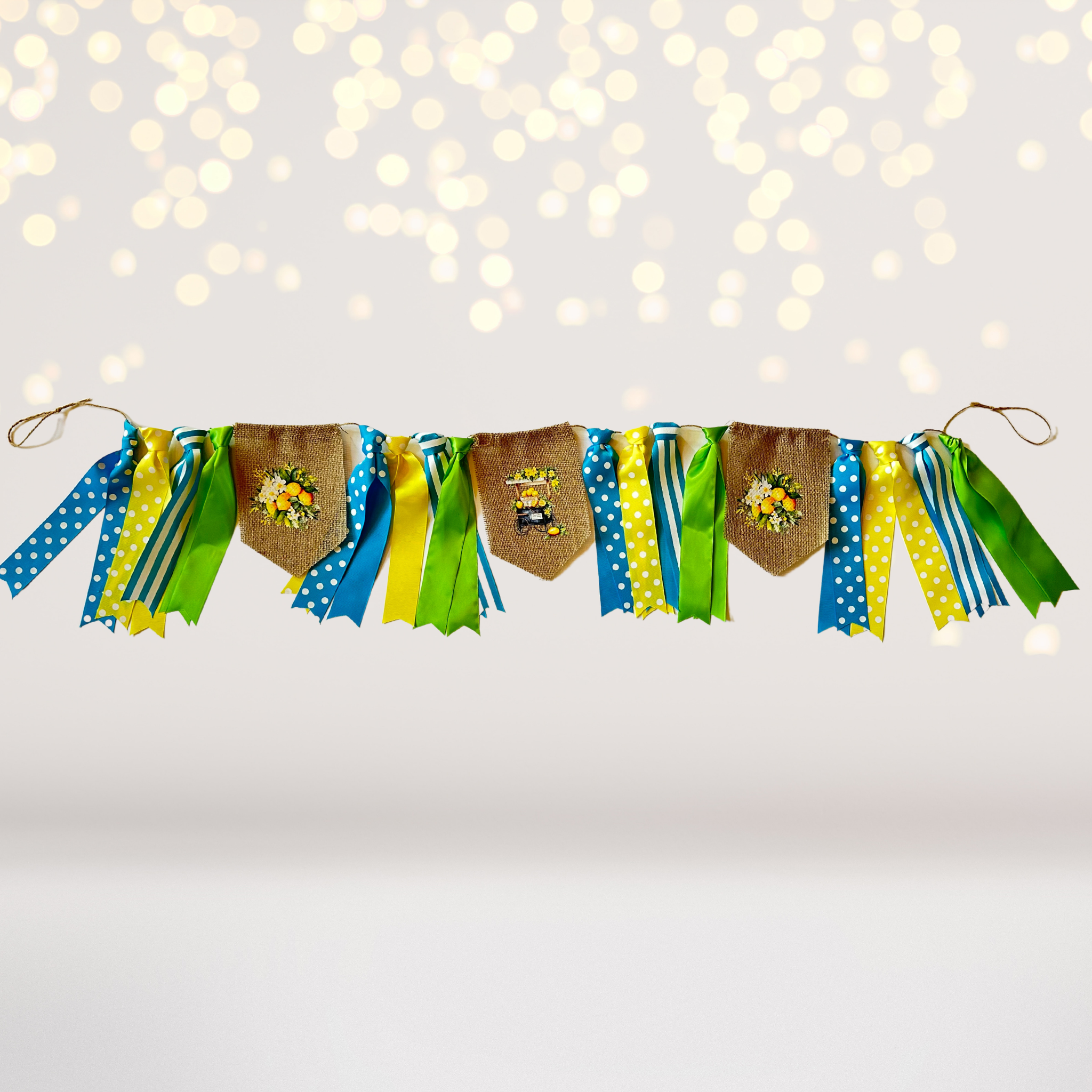 Personalized Party Supplies and Party Decorations
All of our party supplies can be personalized or customized. Each party favor jar can have lemon clip art added or a name personalization

Each pillow bed floor lounger can have a lemon clip art added to match the party supplies banner and a name personalization added.

We want your birthday party supplies and birthday party decorations to be unique, one of a kind and fit your needs and budget. So just contact us to let us know how we can customize your order to do just that

While our lemonade party decorations box is primarily intended for sleepover birthdays, we have seen them used for decorations at a baby shower or used by a bride for a unique twist on a bachelorette sleepover. Whatever cute baby shower, sweet bride event or confetti filled birthday celebrations you use our party box supplies for we promise it will be a
Shipping, Price and More
All of our birthday party decorations boxes are in stock and can be shipped out within 1-3 days depending on personalizations and customizations. We have done our best to keep the price affordable but can cut things out of a box to bring the price down for someone who needs us to. We love parties and love birthdays. We hope you will let us help you host a pinterest post perfect birthday party that your kids will love. So grab a glass of lemonade and sit back and relax and let us handle all your party details.
Review what our customers have to say about our party packs and other party themes, subscribe to our social channels and see what news stations have featured us. No matter where you choose to purchase your lemonade party decorations we wish your birthdays all the happiness in the world.
So what are you waiting for? Send out those invitations, put that birthday cake in the oven, gift wrap that present and lets PARTY!!! Birthdays are meant for celebrating. Celebrations and parties need cute decorations...and we've got you covered.
So when life gives you lemons, spring into happiness in style and host a lemonade party!!!! Order you lemon sleepover party supplies today....then just add your cake stand with a cute yellow confetti cake, balloons, and a colorful napkins feature and viola a perfect lemon squeeze party!!!!!!
---