---
---
About our Turquoise Blue Pillow Floor Lounger
Both you and your child, from little kids to older kids and teens, will absolutely adore this vibrant turquoise blue plush pillow bed floor lounger. With its ultra soft fabric and its stuffable lounger cover design, it invites endless hours of relaxation and comfort. With its convenient sleeping solution and foldable design, it offers versatile options as a comfortable recliner floor cushion, stylish seating solution, or even a spare bed mat for kids of all ages. Whether it's for cozy lounging seat, a comfy place to watch tv, or a cozy spot for playing games, this delightful bed floor lounger cover is the perfect addition to hunting lodges, hotel rooms, and even for accommodating overnight guests. Experience the joy and luxury of providing this stylish piece and cozy floor lounger cover bedding solution like no other.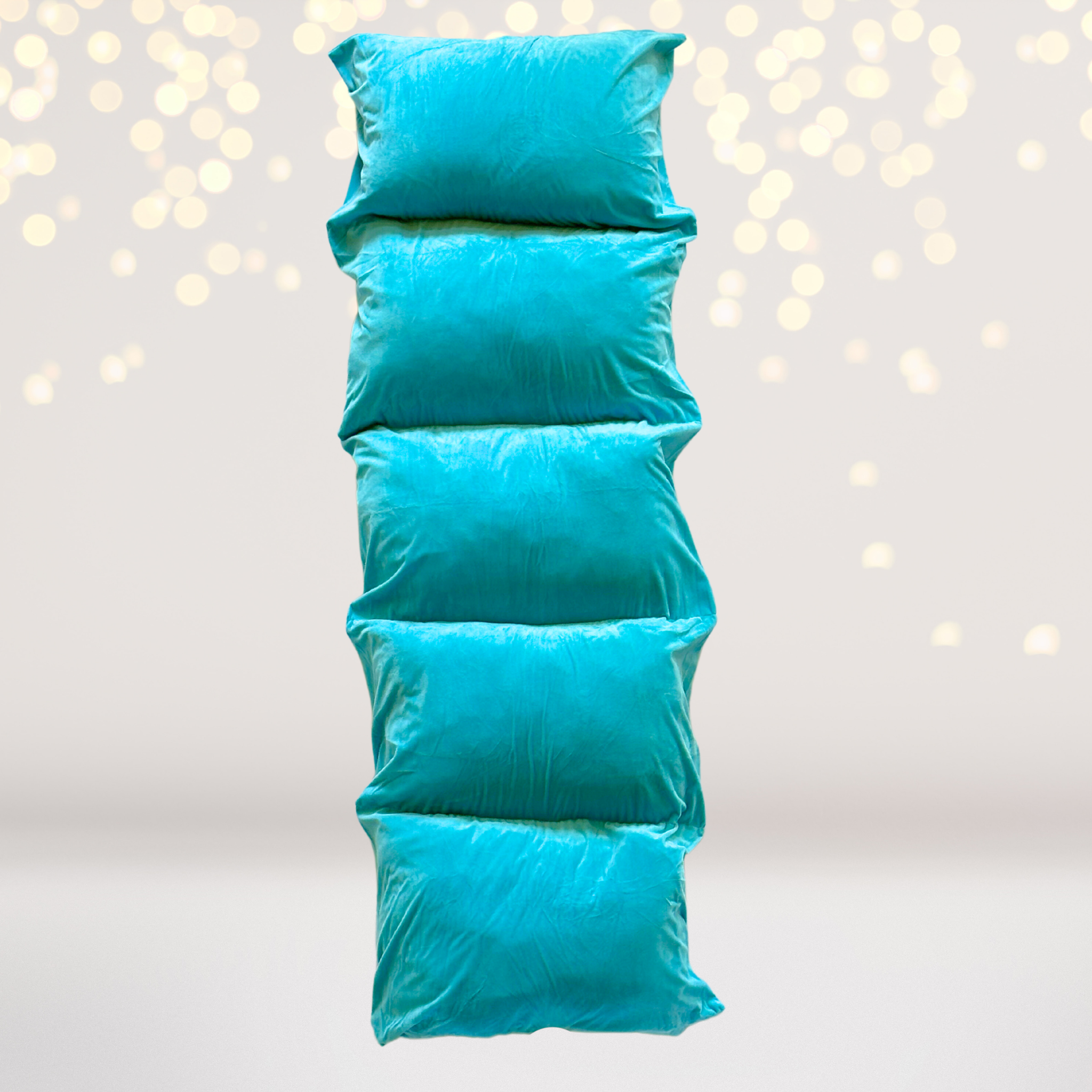 More about Kids Pillow Bed Floor Lounger
This versatile recliner floor cushion will transform any space into an immediate sleepover party spare bed. It is great for birthday slumber parties, campouts, and travel. Your child will enjoy napping on this spare bed, building forts, watching cartoons, reading books, and playing with pets on this cozy, colorful pillow bed floor lounger and spare bed. Your teen will find the lounger comfortable for studying by the fireplace, listening to music, playing video games, or talking on the phone. It makes a quick, portal extra bed for hotel stays, camping, and sleepovers at grandma's house.

Our kids Stuffable Lounger Cover is Designed to provide comfort for little kids, big kids, teens, and adults. (kids adults recliner floor)

Our kids stuffable lounger cover offers high quality materials ensures a lounger cover with all the features you desire. Our easy to use design and durable construction features sturdy sippers, an easy to clean design, which provide ample support and ultimate comfort.

Our Recliner Floor Cushion Features super soft polyester plush fabric and other quality materials for ultimate lounging, sleeping, or snuggling. The slipcover measures 88 inches by 26 inches. Lay flat to create a bed or fold over to create a comfy floor lounger.

This is a large pillow case lounger cover, and we have not included pillows. You will need to use your own pillows, 5 queen standard pillows, and simply stuff 1 of your own standard pillows into each of the sturdy zippers pockets. (You may choose to buy pillows- from dollar store pillows to expensive plush down pillows depending on the ultimate comfort and desired level of extra comfy pillows your prefer)

When you no longer need the pillow bed floor lounger, it is easy to unload the stuffable lounger cover and wash, or fold up and put away. To wash, simply toss the bed floor lounger cover in the washing machine on hand wash or delicate cycle. Only wash the bed floor lounger cover with cold water. Lay the bed floor lounger cover flat to dry. Now your bed floor lounger cover will feel fresh again.

Our Stuffable lounger cover makes the perfect gift for a special someone when you choose the fabric that fits their unique style. There are other convenient choice patterns available. From aqua polka dot and buffalo plaid to sports themed prints and fairies we have a lounger cover that is right for you.

Our stuffable lounger cover makes a perfect cozy floor solution for kids Birthday Slumber Parties and kids Sleepovers. Check out our Slumber Party Bundles, and treat your kids and their guests to memorable, reusable party favors. Our Party bundles include party favors, king size sleepover tents, super soft lounger covers with inflatable pillows, party decorations and more. There's no better way to create cozy floor fun that with our lounger cover.
Stylish Seating Solution Recliner Floor Cushion
Our kids Lounger cover is the perfect gift solution of kids adults. Our versatile design makes this gift truly remarkable when you choose to add a custom clip art or name personalization to the floor lounger. That is correct not only will your gift provide your recipient with a place for ultimate relaxation, we will also personalize it just the way you want so that it is a one of a kind cushion for ultimate comfort. Feel Free to contact us with your personalization details and questions.

It is very important to only wash the personalized lounger cover on a cold delicate cycle.
Bed Floor Lounger Cover
Our kids pillow bed floor lounger is a great investment. Our durable construction makes our bed floor lounger cover a great choice. Don't create just a place to lay around. Instead choose our comfortable lounging option with our Personalize-able floor pillow lounger. Our stuffable lounger cover makes a unique gift and offers convenience of even having it personalized, providing ample support for your to give a one of a kind gift of ultimate comfort.
Our recliner floor cushion, and lounger cover are in stock and ready to ship. Even if you choose to add a personalization to your stylish seating solution we will make sure it ships out for you in 1-3 days. All our recliner floor cushion orders ship for free. So what are you waiting for this ultimate comfort stylish seating solution for kids if just a click away.
We do not currently offer king sized pillows lounger cover. We do not offer a king sized design at this time. We have found our customers prefer the queen size large pillows to to the king size big pillows. Our styles seating solution lounger cover is ready and waiting for you. So if you're looking to provide the ultimate comfort on the floor our lounger cover is the perfect seating solution.
---